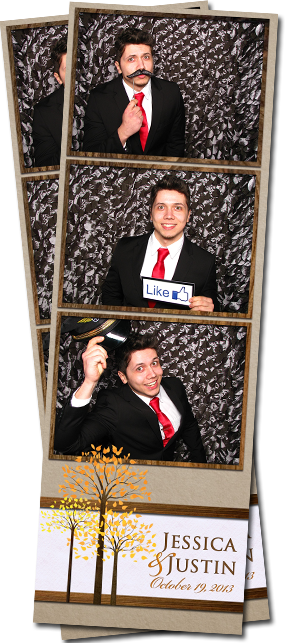 Beautiful Custom Designed Photo Strips
Every event is unique and deserves a unique photo strip. Our designer will create the perfect design that you'll love!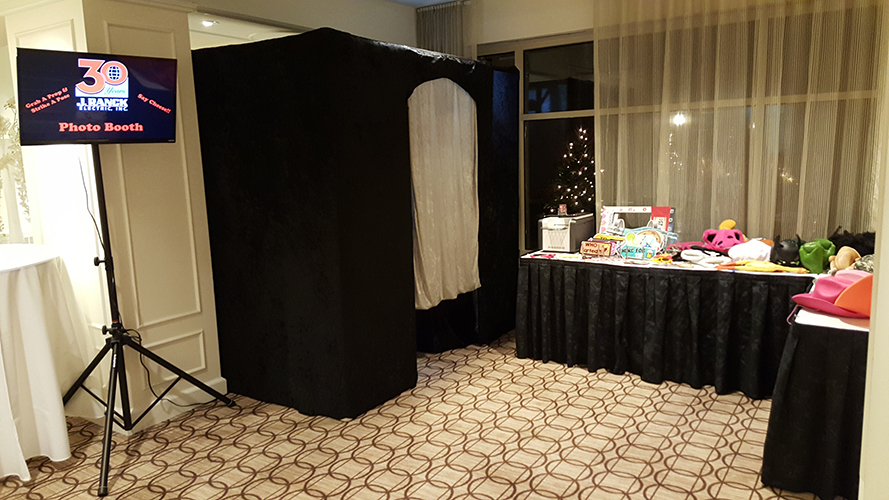 Fully Enclosed Large Booth
Easily fits 1-6 guests but can squeeze up to 12 which makes for some really fun photos!
We didn't realize we were making memories…
We just knew we were having fun!
Take your event to the next level with a photo booth from In A Snap Photobooths! Grab some props, strike a pose, and don't forget to grap your photo strip.  Photo booths have become very popular at weddings, school dances, graduation parties, corporate functions, fundraisers, birthdays, and so many more special occasions.  In A Snap Photobooths is absolutely dedicated to bringing the best, most reliable, and entertaining photo booth experience around.
Our large enclosed booth fits anywhere from 1-6 people very comfortably but try squeezing 12 adults in the booth and see how entertaining those photos turn out!  Our open booth can fit even more!  Did we mention we're all about customization?  Let our graphic designer create the perfect photo strip template based on one of our many layouts along with the theme, colors, or invitation for your event.  You just let us know your requirements, and we'll have a photo strip designed that you'll love!  While you're at it, choose one of our many backdrops to match.
No limits on the fun! Unlimited usage for as long as we're there and each and every person going through the booth receives an instant print.  Guests will absolutely come back again and again with the largest selection of quality props.  If we have the space, we'll literally bring hundreds of props including hats, wigs, boas, hilarious signs, mustaches, lips, and more.  At the end of the night, we'll hand you a USB thumb drive with all photo strips, individual photos, animated GIF photos, and a flip-book video compiled from all the individual images.  If you'd like, we'll also upload all photos to a password protected album or a facebook gallery so your guests can share their photos with friends and family.
We had in a snap photo booth for my daughter's wedding and would highly recommend him to everyone. Gary was very friendly, had lots of props, very fun!! We continue to get compliments on how much fun it was. We had people from 1 year old to 80 years old. Everyone had a blast!!!
Janice
"Highly recommend. Owner was totally engaging with the crowd at the event he was hired for. Crowd had a great time participating in this actitiviy!"
Gina H.
We have used In A Snap for our company Christmas party for the past two years. They have been amazing to work with. They provide great service for a great price. They were able to make custom prints for our party with the graphics we provided to go with the theme of the entire party. Our party is a family party and we had no problem with them using their own discretion to decide which props were appropriate. Both times they stayed after their allotted time to make sure everyone got through the booth at least once. I would recommend them to anyone seeking a photo booth for any kind of event in the Mid-Michigan area.
Breina
In a Snap was soooooo great for my wedding! Gary stayed in touch with me from the moment I chose his services. He was great about answering all of my questions, and offered advice based on his past experiences with other weddings. I recommend In a Snap to everyone, and will definitely use them in the future!
Andria
Awesome!!! Great time!! Hands down was so great and highly would recommend!
Gina
Proving fun photo booth service to the following areas
Birch Run, Burt, Flushing, Montrose, New Lothrop, Saginaw, Alger, Auburn, Beaverton, Bentley, Brant, Breckenridge, Chesaning, Clare, Coleman, Edenville, Farwell, Freeland, Gladwin, Harrison, Hemlock, Higgins Lake, Hope, Houghton Lake, Houghton Lake Heights, Kawkawlin, Lake, Lake George, Linwood, Merrill, Midland, Oakley, Pinconning, Prudenville, Rhodes, Saint Charles, Saint Helen, Sanford, Standish, Sterling, West Branch, Wheeler, Bay City, University Center, Bridgeport, Carrollton, Essexville, Frankenmuth, Munger, Omer, Prescott, Reese, Richville, Twining, Alma, Mount Pleasant, Ashley, Bannister, Bath, Belding, Carson City, Cedar Lake, Clarksville, Corunna, Crystal, Dewitt, Eagle, Edmore, Elm Hall, Elsie, Elwell, Eureka, Fenwick, Fowler, Greenville, Henderson, Hubbardston, Ionia, Ithaca, Laingsburg, Lake Odessa, Lakeview, Lyons, Mcbrides, Maple Rapids, Middleton, Muir, North Star, Orleans, Ovid, Owosso, Palo, Perrinton, Pewamo, Pompeii, Portland, Riverdale, Rosebush, Saint Johns, Saint Louis, Saranac, Shepherd, Sheridan, Sidney, Six Lakes, Smyrna, Stanton, Sumner, Sunfield, Vestaburg, Weidman, Westphalia, Winn, Lansing, Ada, Bailey, Baldwin, Barryton, Belmont, Big Rapids, Bitely, Blanchard, Brohman, Cannonsburg, Casnovia, Cedar Springs, Chippewa Lake, Comstock Park, Coral, Gowen, Grant, Howard City, Kent City, Lowell, Mecosta, Morley, Newaygo, Paris, Pierson, Remus, Rockford, Rodney, Sand Lake, Sparta, Stanwood, Trufant, White Cloud, Fremont, Grand Rapids, Cadillac, Chase, Evart, Falmouth, Hersey, Idlewild, Lake City, Leroy, Luther, Mc Bain, Marion, Merritt, Reed City, Sears, Tustin, and the rest of Central Michigan