We're the owners.
Hi, w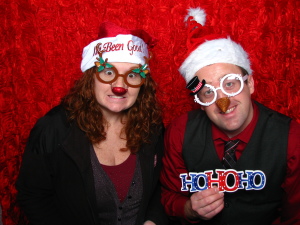 e're Gary & Chrissy Lane, owners of In A Snap Photobooths.  We're a small business located in Mt. Pleasant and service all of central Michigan but we have been hired all over the state.  We began our Journey in 2012 after "actively participating" (let's be frank, we took a lot of pictures) in the photo booth at Gary's sister's wedding.  What seemed like fun one night, turned into a business opportunity the next.  We researched our area and discovered there weren't really any quality photo booths and if brides were spending a few hundred dollars on such a service, they deserved much better.  And so it began.
Gary is an IT guy by trade, Detroit Redwings fan by hobby, and proudest father to a couple of the best kids anyone could ask for.  Chrissy is a stay-at-home mom that keeps the business running faster than the kids.  Seriously though, the kids are darn fast for being 1 and 4.  Together we do run one of the neatest businesses you could imagine.  I mean c'mon, where else do you see people dress in goofy wigs, hold a sign that says "Who Farted?" and point to the rubber chicken?
We will tell you this, the most rewarding parts of this business are the smiles and laughter from people exiting the booth as they pick up their photo strips and the thank you's we receive from every event.  When the mother of a bride calls you several months after the wedding to thank you again because they had so much fun and they're still talking about the photo booth, that's when you know you did your job right and those are what make us proud to be in our business.
Mission Statement
In A Snap Photobooths offers a highly entertaining experience for all events and aims to provide a very unique and memorable time for its guests.  We believe in listening to a customer's needs and designing a package that meets their expectations while remaining within their budget.